Work done to prepare for the trip
This section will be updated as more work is completed.
Interior
Date work completed: 01 February 2015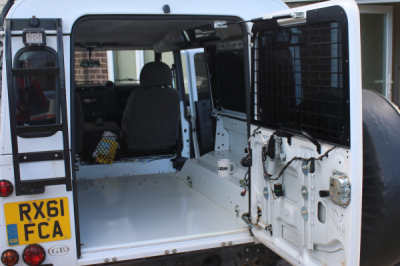 Striped the back seats out and completely striped the rear. This is so we can sound proof the rear two thirds. The front had already been done.
Front winch and bumper removed and rear bumper removed for re-powder coating due to a few signs off rust and wear.
Had to remove auxiliary fuel tank to gain access to the rear bumper and draw unit. As it was fitted after the two items and was obstructing bolts for removal.
Date work completed: 29 March 2015
Once the back was striped and cleaned, it was very straight forward to apply the the Silent Coat sound proofing. Once the area is grease and dust free the self adhesive tiles fly down. It was a nice easy "high impact job" and, after testing, it has made huge difference to the noise level in the cab. With normal conversation achievable at 75mph. But as Me-an said we are now going to have to talk on the journey. Pros and cons. But a good deal at £80 delivered and a few hours hard work.
The pack I ordered was 40 sheets and was just enough but I had to be careful with the wastage.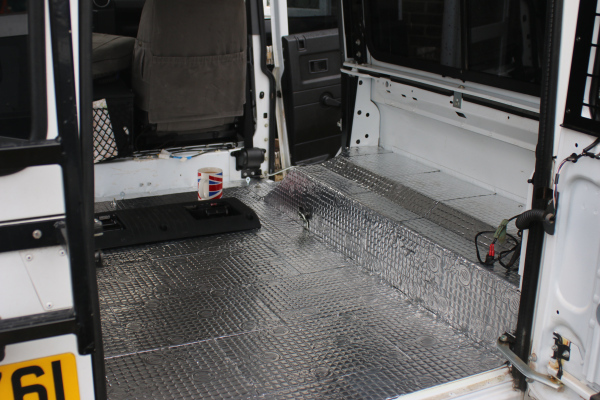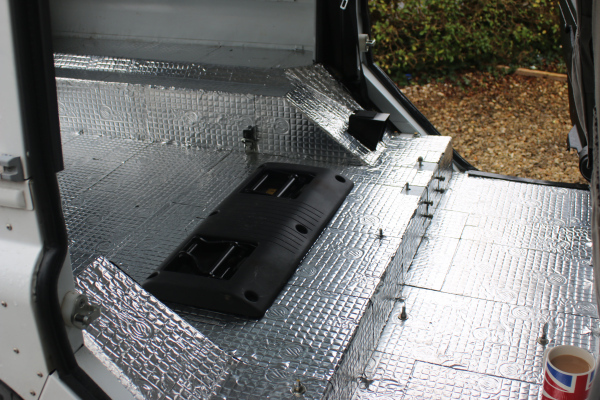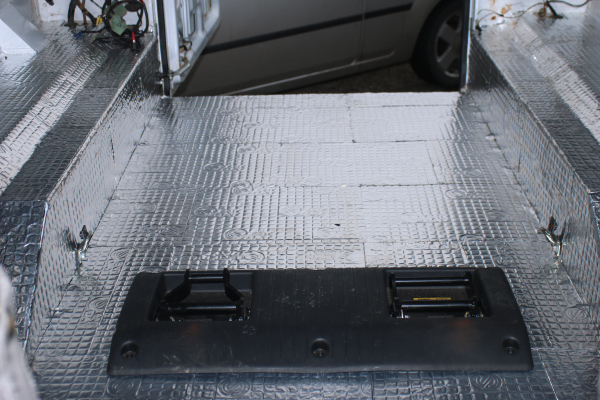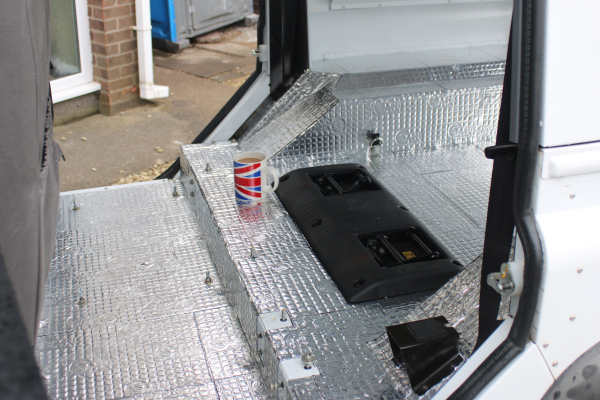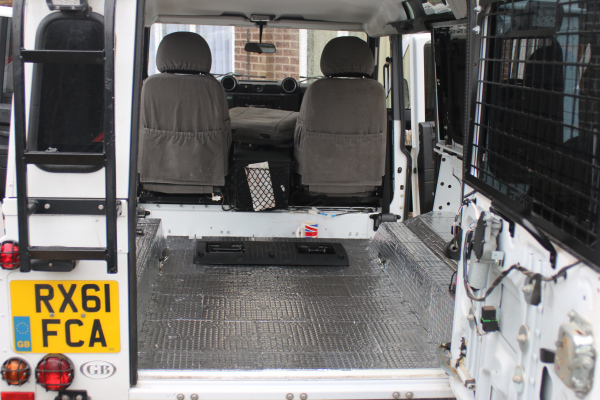 The bumpers came back from the Powder coating. The general powder coating was a good standard but the delays getting them back was far from ideal. The bumpers and winch came off without a problem. Some of the nuts and bolts were quite corroded due to zinc coated nuts and bolts fitted. On refitting, all stainless steel fixings where fitted that I sourced from a local iron monger. This proves a lot cheeper than getting bolt kits from eBay etc but does take a little more effort.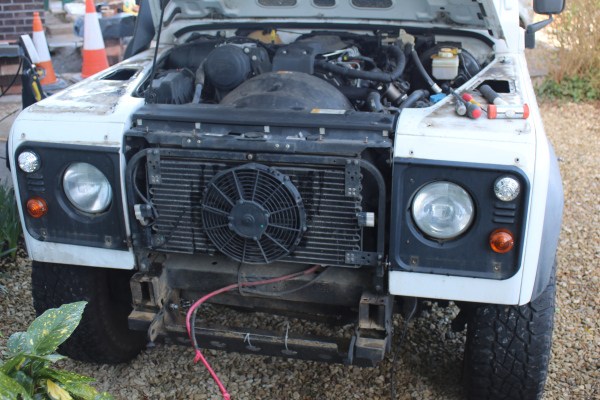 Once I had the auxiliary fuel tank out which was a nightmare due to the hoses fitting quite snug. I found rust had started to set in. I therefore decided to strip the paint and rust which took an age. I then zinc primed it and painted in with black stone chip. This job took ages and was one of them – I wish I hadn't started. But now it's done I'm happy.
To date everything is back on the Defender. The drawer unit has been refitted. Bumpers back on and winch refitted. I have fitted new light surrounds and light guards. They weren't needed but I prefer the look of them.
Date work completed: 7 January 2016
It's been a while since the last entry about the work done to the Defender. Whilst I've been lazy on the blog front, rest assured I've been putting some long days in the workshop getting Mary to where she is now.
Once the back was striped out and sound proofing fitted, I had a good clean canvas to work on.
We had a clear aim for the rear area. We need a seat for a third person. I think this is a handy addition for many reasons. The main reason is we need to have a guide with us when traveling in China. They will be spending 41 days with us and need to travel in relative comfort. I say relative because the back seat in a Defender is not the most comfortable. Let's hope they are small (I'm optimistic). Also, a third seat will be handy if we wish to take a local guide with us in any other location. We feel it's a good thing to have for versatility.
The second factor was we wanted a level platform to sleep two very friendy people inside the vehicle if we need to. For example, if we need to sleep for a few hours at a boarder or in a car park in a city; somewhere you don't want to deploy the roof tent with the awning and have a camp fire. The area is quite small for two people but workable. It's about perfect for one person and I presume our Chinese guide will make good use of it.
We have a 60L fresh water tank that we wanted to store as low in the vehicle as possible. We also wanted as much storage as we could squeeze in. Other items to think about were the fridge, storage of the table, chairs and other large items like the ladders to the roof tent etc. All these factors detemined the layout of the inside.
It's important to know what you want and need before you start work. Chat and come up with as many ideas and possible. A road test or two will help determine any storage problems/solutions. I find that it's easy to pack loads of stuff perfectly neatly in your vehicle or a bag before you go on your trip. Then when you pull it all out in the field and need to repack the following morning, the problems start to arise.
It took a while to decide what we should make the structure out of. As a carpenter, wood sprang to mind.
After doing some research, there are many homemade wooden shelving and drawer units on the internet. However, wood, I felt, just wouldn't have the longevity of metal. But with metal, the down side was I couldn't weld and if I learned how to, I would never of got to a standard that I would be happy with when welding aluminium with a tig welder.
It had to be aluminium for the stregth to weight ratio. I opted for a very simple system of plastic connecting corners with different configerations of right angle connections that you can push fit 25mm aluminium box section straight into. It was a blessing and was purchased from eBay. I cut the box section to length and slotted it together. There was little to no flex in the box section over the spans I was using up to 1.5m. I used as many of the original back seat bolt fixing as possible to secure the frame work to the body and chassis to limit drilling holes everywhere.
When we purchased the vehicle, it had a drawer unit fitted between the rear wheel arches. It's great quality and a perfect use of space with a low centre of gravity. Where the drawer unit meets the checker plate that covers the wheel arches, there was a gap of over 10mm, as you can see in the picture. So we removed this and refitted this area with new checker plate with no gaps but still in 3 pieces as it was impossible to get one solid piece through the back door.
Cutting the 3mm aluminium checker plater was straight forward with a circular saw with a muti material blade on it. I used the box section as a guide/fence to run the edge of the saw down ensuring perfectly straigh cuts. I was quite liberal with the WD40 to keep the heat down on the blade but it worked really well and the need for a guilotine wasn't there. Working with metal sheet, you have to be very exact with your measurements and cuts. Working with wood, you can take small amouts off with a plane to fit. Not with metal. Filing 2mm off a meter length of 3mm checker plate isn't an option. Measure twice, cut once!!
A piano hinge was used for the door that sits behing the water tank. The hinge was riveted  to the box section then using small counter sink allan bolts to fit the hidge to the door/lid.
Once the checker plate was attached to the box section, the whole structure was super strong and will easily take the weight of two people plus kit. I used allan counter sink bolts with rivnuts to attach the checker plate to the box section. Rivnuts are an amazing fixing. If you are doing this type of build and you dont know what they are, Google them. They are a rivet that give you a threaded insert. Very handy!!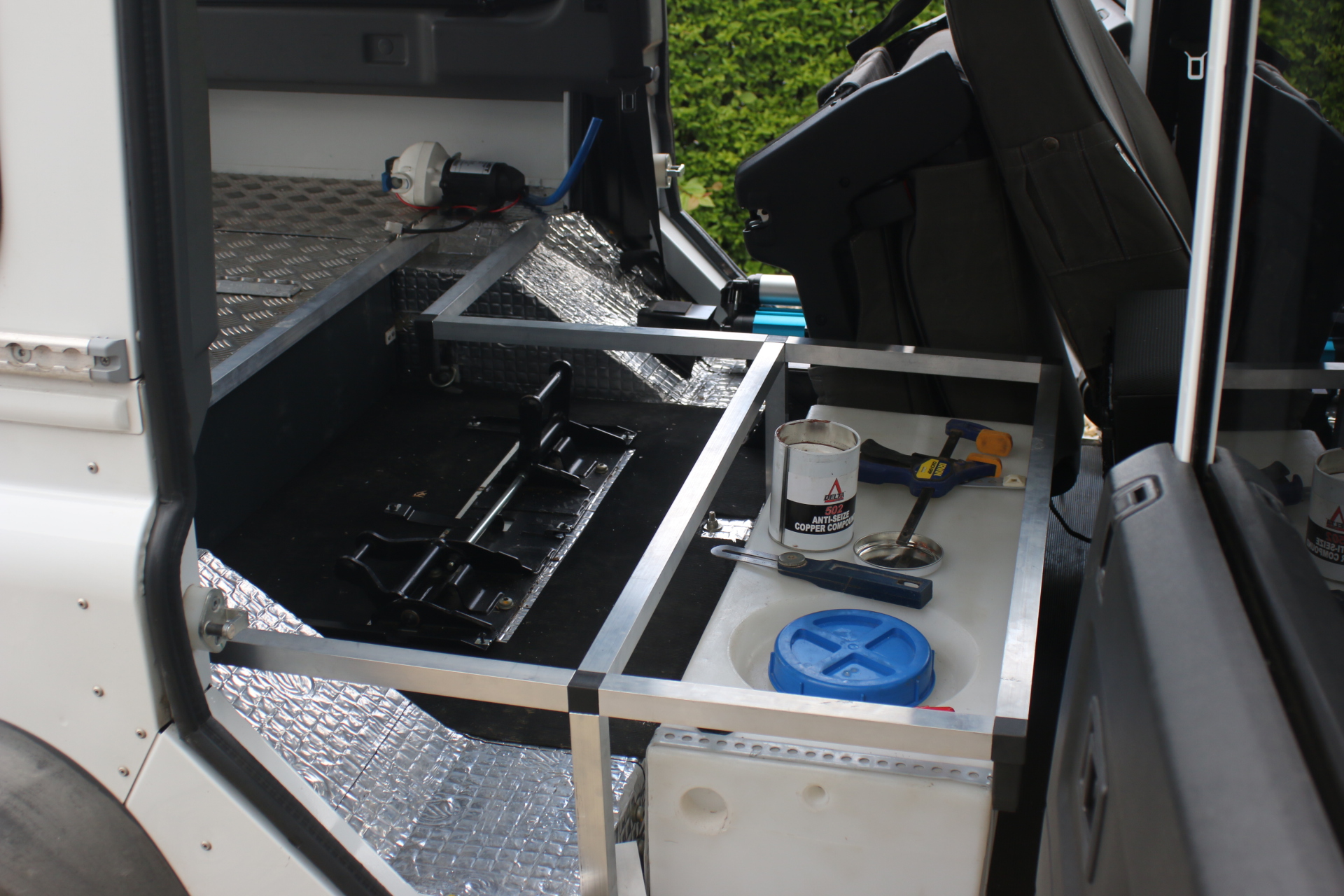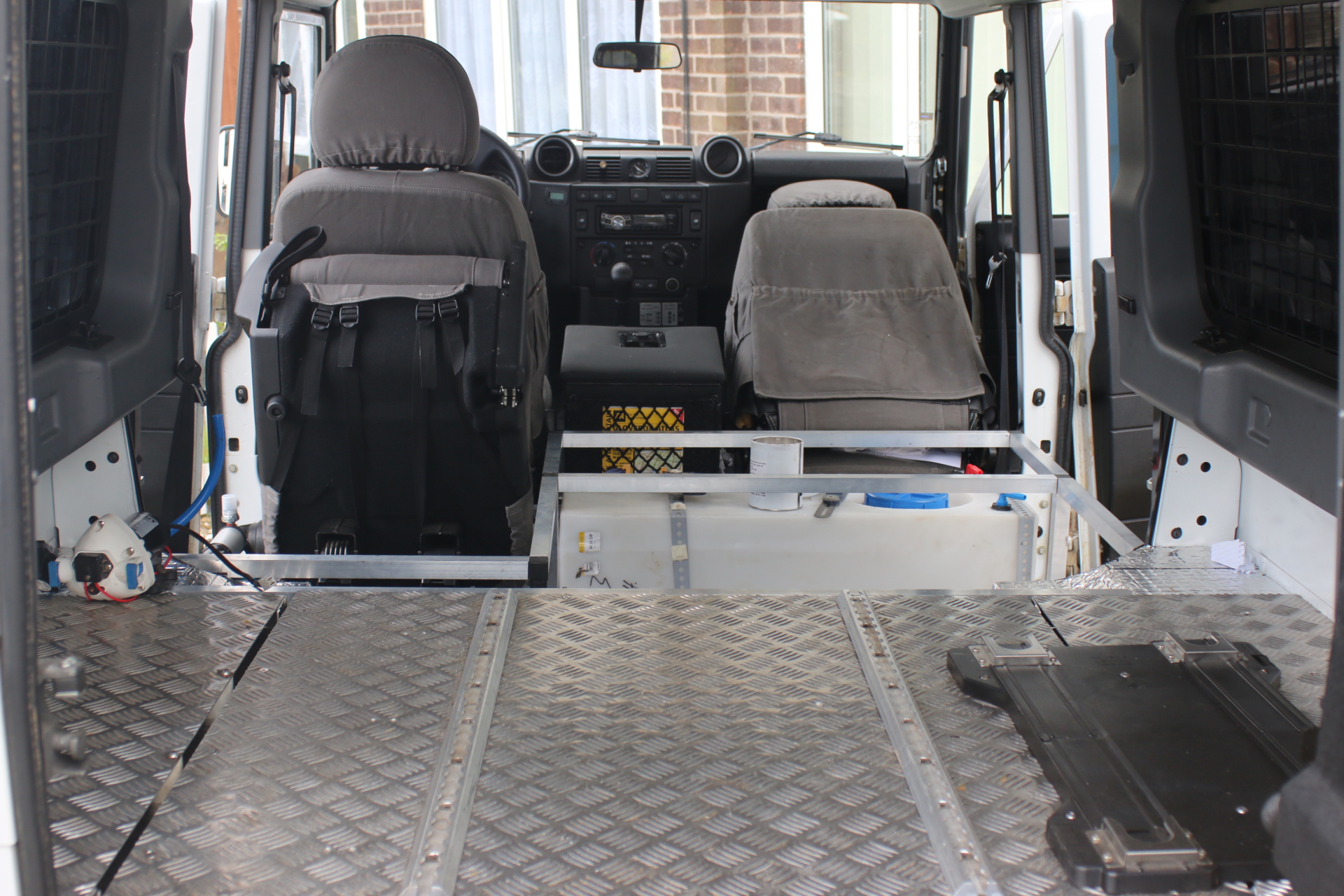 Once all the metal framework was fitted and the checkerplate was cut the to size, it was all bolted in and everything checked and adjusted. At this point, I then installed the electrics and ran the required cables and wiring in for the rear work lights, compressor and roof spot lights. All being switched from the centre cubby box. A lot of thought has to go into this if you don't want wires on show. Vehicle wiring was a challenge to say the least. As I had no experience in this what so ever. More to follow on the electrics in my next update!
I used a boat inspection hatch for the access hole to the water tank. it is strong, easy to open and has a low profile with a large appature for filling. 
For the lift up door latch, we used a lockable paddle latch. A high quality latch and quite secure,  just riveted in place. The same type as on the drawer. Again, off eBay but I got a friend to bring it back to the UK from the US for me with a few other things to save on postage and import charge. If this is an option for you too, it's really worth while. 4x4 equipment and parts are very cheap in the US, South Africa and Australia. I have friends in the US and Australia and they both have brought things back to the UK for us.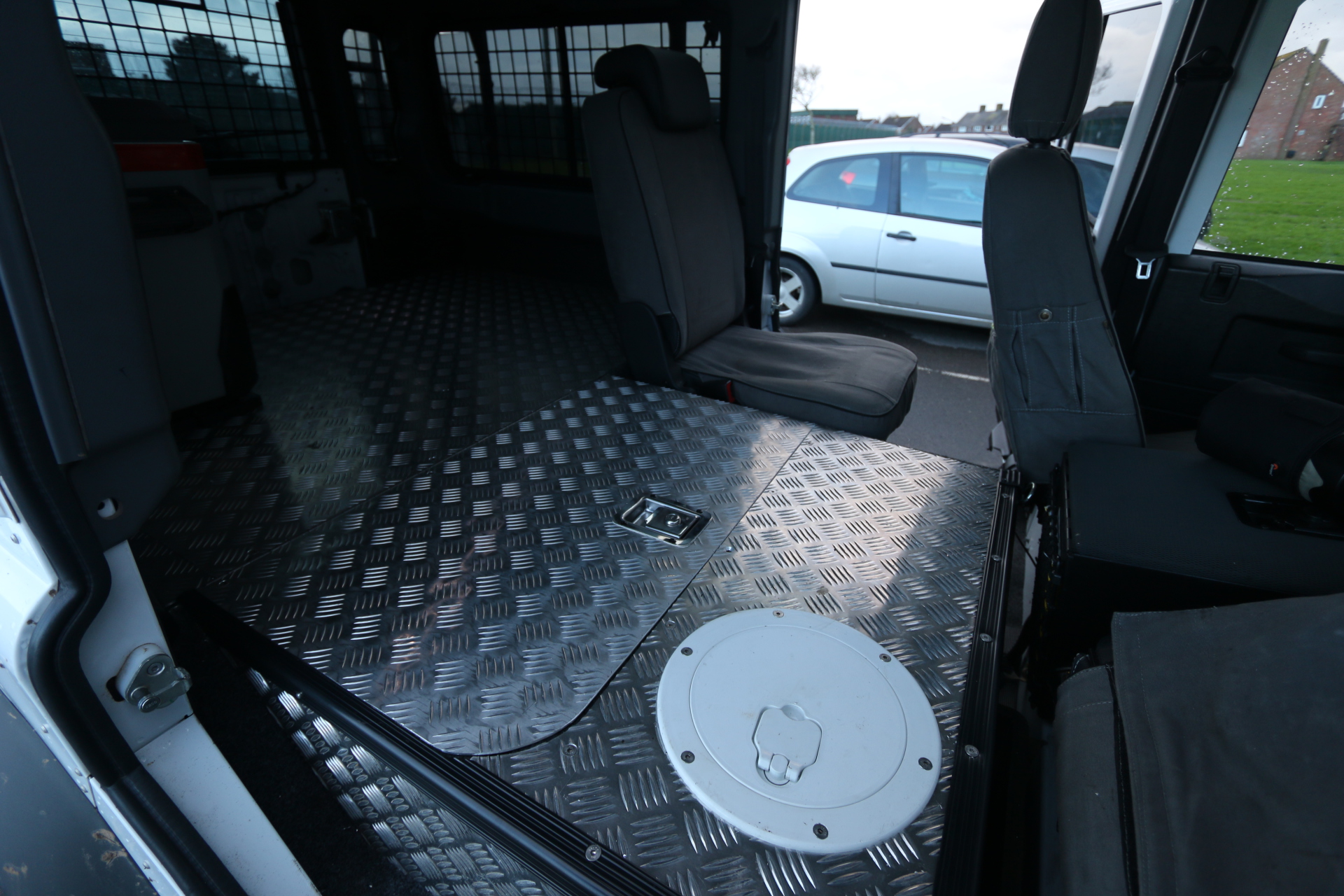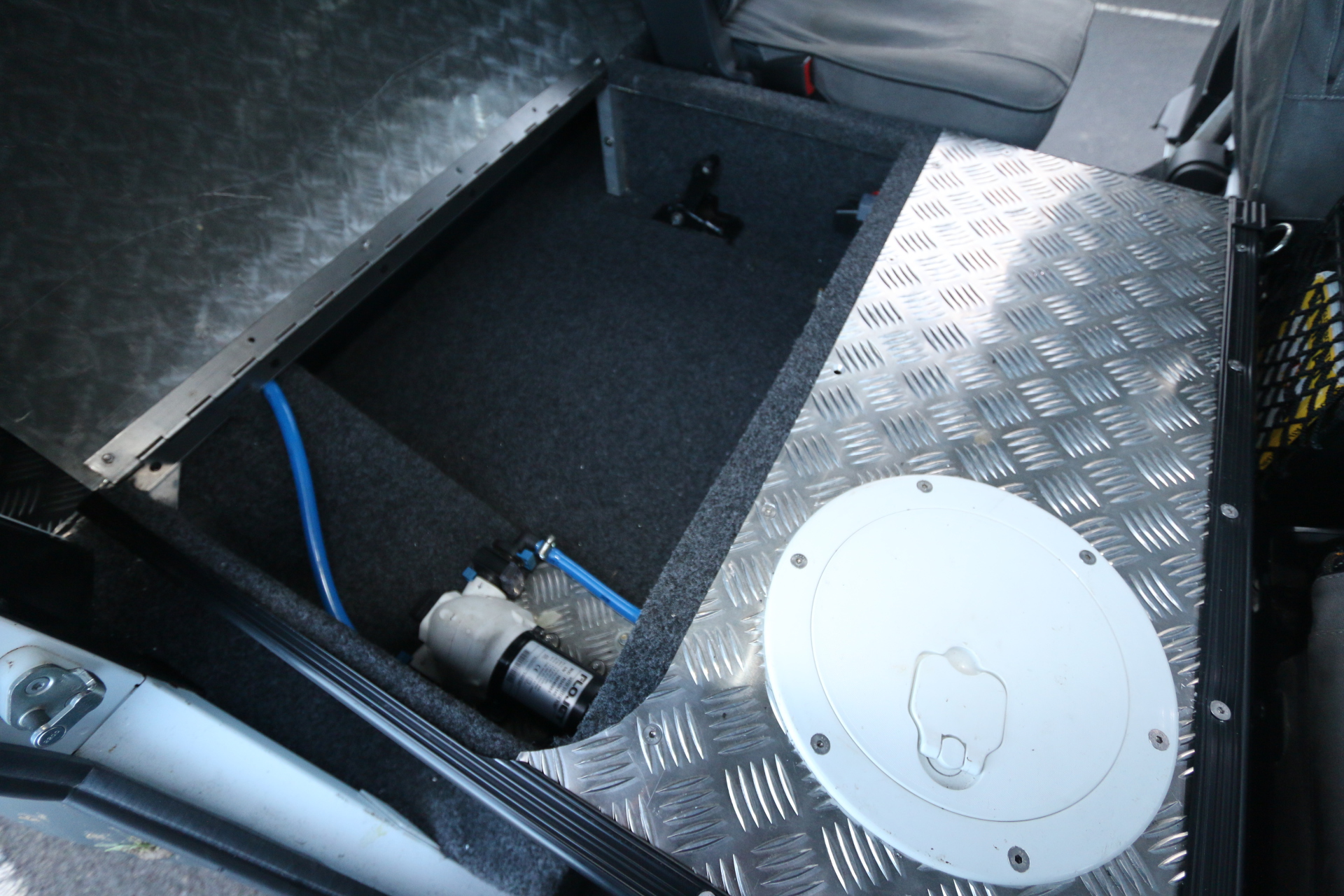 There are few bits and bobs that need finishing. The main one being a storage cupbard on the opposite side to the fridge. This will take a little of the already tight space for when we need to sleep in the vehicle, but shoud help keep things organised and safe if we happen to have an accident. Something that we are very aware of. We don't want things flying around in the event of an RTA.
For the cupboard, we are going to use flight box matierial. It's like the boxes that roadies use for music equipment. It's light. strong and straight forward to make something suitable, with fixing readily available.
The area around the rear passanger has been fully carpeted to make it a little more comfortable. This area was just white body work from the factory. The sound proofing and carpet will help with the road noise. The carpet was cheap and easy to fit and secured in place with carpet spray glue. A good high impact job.
The
ARB compressor
is fitted to the left of the rear seat with all the wiring out the way. I felt this was the best place because it is nice and central to the vehicle allowing the tyres to be aired up easily. With it being in the rear of the vehcile, it's also out the way and quieter when running. The seat is still foldable so, when we don't have a passenger, we can fold it away and use this area for storage.